Corporate Gift Card
We design, implement and manage gift card solutions that cater to client gifting requirements across various departments.
Whether gifting to employees or partners, we can build solutions that offer your business the expertise, scale and flexibility to meet your current and future gift requirements.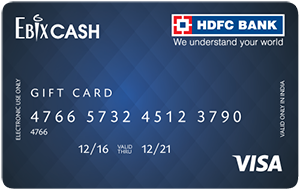 By seamlessly integrating platforms, we can broaden the availability of the choice of gift cards. Be it by enabling the purchase of gift cards online or with gift card delivery via post, we provide solutions that fit the gifting needs. It gives gifting the personal touch that every individual or company desires.
Card Validity
The validity of the cards issued is as under:
General Purpose Corporate Prepaid Card: 5 years (customizable)
Gift Cards: 3 years
Choice Gift Cards: 6 months
Gift Vouchers: Varies across issuing brands
For Terms and Conditions of the EbixCash Corporate Gift Card, click here
Giving you the support you need
Designed as the perfect solution for every gifting occasion for you or your company, the EbixCash Gift Solutions takes the hassle out of finding the right gift by letting the receiver choose exactly what he/she wants. EbixCash Corporate Gift Card completely does away with all the concerns of giving the right gift.
EbixCash Gift Card is a hassle-free, secure and convenient way to gift your employees, vendors or someone truly valuable to your organization. Just load the EbixCash Gift Card with any amount you want and you have a marvelous gift in your hands.
We have teamed up with HDFC Bank and Visa/Rupay to launch corporate gift cards. The HDFC Bank EbixCash Visa/Rupay Gift Card offers a wide range of products and can be used at over 700,000+ merchant establishment accepting Visa/Rupay cards. The card can be purchased for any value with denomination ranging from Rs. 100 to Rs. 10,000. It comes with a range of security features designed to protect cardholders from unauthorized purchases if their card is stolen. The gift card, which is valid for three years, is non-reloaded and can be used for purchases at shops and online transactions over the internet.
General Purpose Corporate Cards
EbixCash launched India's first General Purpose Reloadable (GPR) open loop prepaid card powered by the Visa/MasterCard/Rupay platform, thereby giving access to all domestic ATM's and 1 million + merchants for transacting.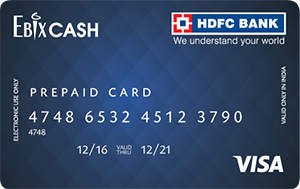 The Corporate Prepaid Card offers the ultimate power of controlling how you spend your money. The prepaid card is simple to use over the internet, at merchant establishments,and for cash withdrawals at ATMs. The card also offers freedom of accessibility for a number of payment services anytime-anywhere. These stored value cards can be loaded remotely and work exactly like any other debit card.
EbixCash Call Center No : 07666155220 / 022 61125757
Download Form
For Terms and Conditions of the General Purpose Corporate Cards, click here
HDFC Bank EbixCash Meal Card
Get a completely new flavor to your life - the HDFC Bank EbixCash Meal Card.
It is a convenient and easy solution to pay all your restaurant bills and shop for all your groceries at any Visa/Rupay supported outlet, thus reducing the need to carry cash or paper vouchers!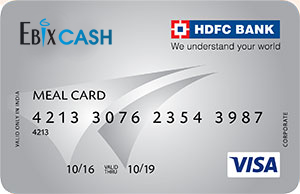 The best thing is that it is already on the menu at your company. Do speak with the concerned authorities about it. Even your taste buds will thank you for it.
Contact Us: 022 61125757 / 07666155220 | care@ebixcash.com
Here's a taste of what you can get with the HDFC Bank EbixCash Meal Card:
Instant access to the loaded amount for hassle-free transactions.
It ensures secure and speedy transactions.
SMS alerts on every transaction, thus helps track spends.
Provides tax benefit for your employees as per the meal allowance guidelines.
Note: Please do not share your MPIN, OTP, Card details, CVV, ATM / POS PIN, WEB PIN, etc. with anyone, either over the phone or through email. Bank / EbixCash officials / representatives never ask for it.