About EbixCash
EbixCash, has today emerged as India's largest end-to-end financial exchange, that includes a last mile network of over 650,000 physical distribution outlets besides an omni-channel online digital platform. EbixCash converges front-end distribution channels with back-end technology functions, across the payments solutions, travel, insurance and financial technology industries.
The EbixCash Exchange employs more than 10,431 employees across different sectors with 196 offices across the Asia Pacific region. The leadership team of the Company is ingrained in the ethos of Customer First, a genuine need to excel, a bias for action and delivering results.
With a clear leadership position in the areas of international remittance and foreign exchange, as well as leadership positions in other areas such as digital payments solutions, domestic money remittance, prepaid cards, travel, insurance and corporate & incentive solutions, EbixCash, is pioneering convergence end-to-end play. EbixCash is today leveraging its focus on On-Demand technology as the means to maintain and grow its leadership position.
EbixCash portfolio of products can be accessed digitally anywhere as well as across its distribution outlets spread over 4,000 cities and 75,000 villages.
EbixCash business encompasses four primary business segments - (1) Payments Solutions (2) Travel (3) Financial Technologies (4) BPO and Startups.
Payment Solutions
650k+
retail outlets in India
16/12
International airports / seaports
4k / 75k
Cities / Villages covered in India
90%
Coverage of 28mm passengers
Travel
523k+
Agent outlets in 9 countries
6mn+
Unique registered users
17,900+
Corporate clients
Financial Technologies
150+
Lending solution installations
60+
Countries with lending solutions
32+
Banking Financial Services and insurance clients in India
Payment solutions
EbixCash co-branded Prepaid Card (enabled by Visa and MasterCard and Rupay) in association with other banking partners delivers a simple and efficient payment solution for customers. EbixCash offers cards from a variety of Banks like NSDL Payments Bank Limited and YES Bank.
EbixCash's Forex operations are in 18 international airports and 12 seaports, as well as within 8,728 corporate clients, hotels, duty free shoppers stores, temples and educational institutes, conducting over USD 4.5 Billion in annual GMV (pre-COVID-19).
EbixCash's Inward remittance business in India conducted in excess of USD 7.02 Billion in gross annual remittance business (pre-COVID-19), while accounting for approximately 70% of India's cash to cash business. EbixCash inward remittance business involves engagement with all top international players such as Western Union, MoneyGram and Ria.
Travel
EbixCash today has emerged as one of Southeast Asia's leading travel exchanges, with over 801 employees, 523,722 agent network, 19 branches and 17,907 corporate clients; processing an estimated ₹175,000 million in GMV (pre-COVID-19).
B2B Travel – With a Physical and digital online network of 523,722 agent outlets across nine countries, EbixCash travel agents sell travel products such as flights (domestic and international), rail and bus tickets, hotel tickets and holiday packages by using our proprietary VIA.com online platform. EbixCash Agent expanse includes but is not limited to India, Philippines, Indonesia, Singapore, UAE and Oman.
Corporate Travel – Thousands of corporate entities across nine countries currently use our proprietary corporate travel booking platform, VIA.com to avail our services such as airlines, bus, train, cabs, hotels, events travel, holiday travel and other allied services.
B2C Travel – EbixCash Travels provides services to the end consumer through a variety of web/mobile app based offerings, wherein the end consumers can purchase its services and products through a variety of online platforms including EbixCash.com, VIA.com, sastiticket.com etc. in India, Indonesia, Singapore, UAE, Thailand, Oman, Saudi Arabia, Hong Kong and Malaysia.
Luxury and MICE Travel – EbixCash Travels acts as an end-to-end event and travel provider for its clients, while managing large events, conferences and exhibitions for corporates/sports bodies/organisations. EbixCash is involved in all aspects of the event, be it booking for airlines, bus, trains, cabs, hotels, events travel bookings, conference planning, event management, stage services in the areas of holiday travel, sports travel, meetings, conferences, luxury holidays and safaris, rail journeys and swiss voyages.
EbixCash Financial Technologies
EbixCash Financial Technologies Division offers on-demand technology to various providers in the areas of travel, lending, wealth and asset management, insurance, bus exchanges and Business Processing Outsourcing ("BPO").
Wealth, asset and lending management technology – EbixCash's comprehensive suite of services includes Moneyware, InvestmentPro-a Cloud based investment management solution platform and multiple technology services. An example - EbixCash product is MoneyWare - an integrated wealth management platform designed to allow wealth managers to run their complete business life cycle from front office to back office, without having to use multiple systems. It is flexible and customizable helping clients address client management, financial advisory, portfolio management, compliance and client reporting and accounting.

With clients across 60 countries including countries such as India, Mauritius, Qatar, Middle-East, Philippines, EbixCash Technology division has emerged as a leading backend player. EbixCash today has prestigious clients such as SBI, Axis Securities, BDO, Standard Chartered, ICICI Bank, Northern Trust, Emirates Banks and Societe Generale amongst its clientele of top 30 financial institutions.
Bus exchange technology – EbixCash today has emerged as a dominant financial technology company powering Information Technology Management Systems(ITMS) in bus ticketing across India, while supplying smart back-end technology solutions in more than 150,000 buses across 18 Indian States. EbixCash's bus exchange division is today India's leader in the area of bus exchanges, handling approximately $1.7 Billion of annual transactions (Pre-COVID 19), across 30% of India's bus ticketing system network with more than 10 large state-owned public transport corporations as clients. EbixCash today supplies technology required for smart card and ticketing system, including physical tickets and hardware located on buses, and back-end software infrastructure required at depots and corporate offices. The division also is a leader in the financial services hosting arena, while managing hosting functions for 25% of the public sector banks in India.
Travel Technology – EbixCash travel technology group provides back-end corporate travel technology to many travel backend providers in India and abroad. This is a pure technology offering, with no cross over to EbixCash's travel exchange businesses.
BPO services
EbixCash Global Services Pvt. Ltd. – The EbixCash Global Services Division offers BPO services like customer retention and customer experience services across India, including inbound/outbound contact call centers; email, chat and social media contact centers; feet on street and last mile delivery services; hiring, onboarding, payroll and human resources help desk services; IT and digital transformation services (e.g., knowledge management, application development and infrastructure management).
EbixCash acquired a 70% interest in AssureEdge Global Services ("AssureEdge"). AssureEdge was a pan-India based BPO company, serving a number of industries and clients that had cross-selling value for EbixCash services.
This business has experienced strong tailwinds post acquisition and hence, the company had to increase the head count by approximately 2,000 as of September 2021.
Start up initiatives
EbixCash has made investments in asset-light technology start-ups like Routier, AHA taxis and Ebix SmartClass that have positioned EbixCash as a key player in emerging sectors like classroom elearning, tele-medicine, trucking logistics and intercity corporate and consumer cab travel respectively.
EbixCash's "Ask a doctor" provides a comprehensive source of interactive, consistent and credible healthcare information.
EbixCash's SmartClass E-learning venture has more than 70,000 content classrooms, all mapped to national and state curriculum, available in multiple languages and is one of India's fastest-growing E-learning companies.
EbixCash's Trucking logistics service, Routier is involved in an asset light manner in domestic B2B trucking, packing and moving, end to end domestic and international cargo, end to end shipping cargo, integrated warehousing solutions and B2B end to end retail distribution.
EbixCash Cabs service provides intra-city and inter-city service to consumers, in more than 4000 cities while serving more than 20,000 routes. It also offers cab services to its corporate clients.
BSE-Ebix Insurance Exchange
BSE-Ebix is a joint venture between India's leading stock exchange BSE and Ebix Inc. that focuses on sale of insurance through physical (thousands of agents) and digital means.
Key Pointers
Focus is rather simple-to converge distribution markets with back-end play and power both sides. That way we have the back end players using our on-demand technology, while we also bring these players into the markets that we create – through our distribution network comprising hundreds of thousands of Physical locations (Phygital) delivering digital solutions.
EbixCash today has a larger physical network than any of India's largest Banks, with approximately 650,000 "phygital" franchisee locations including 50,000 bank branches serving as remittance outlets.
Company growth rate over the last three years is in high double digits.
Company has clocked $100m in EBITDA in financial year 2022-23 and has consistently been quite profitable from day-one of its inception in India.
Company has a CAGR of 51% over the last 2 years (mostly organic as the Company only made two small acquisitions in the last 36 months that had pre-acquisition revenues of 120 crores annually with no profitability)
Highlights
Highly integrated Partnership with India's No.1 Hindi news channel (in terms of viewership, 120 million viewership) – Aaj Tak TV – providing us continuous branding and reach
Partnership with India's No.2 business news channel (in terms of viewership) – ET Now - 2022
Partnership with India's No.3 business news channel (in terms of viewership) – Zee Business - 2022
Partnership with India's No.2 English news channel (in terms of viewership) – Times now - 2022
Principal sponsor to Punjab Kings, leading cricket team in Indian Premier League, IPL. Team Players of Punjab Kings wear EBIXCASH on their Jerseys in the front. IPL is the largest viewing spectacle - the IPL reach (viewership on TV) last year was 405 Million whereas for Punjab Kings it was 265.4 Million – last 4 year association and continuing.
Principal Sponsor to SunRisers Hyderabad, a leading cricket team in Indian Premier League, IPL. Team Players wear EBIXCASH on their helmets/caps on the leading side – 2023 onwards.
Principal sponsor to Delhi Capitals, leading cricket team in Indian Premier League, IPL. Team Players of Delhi Capitals wore EBIXCASH on the back of their jerseys. IPL is the largest viewing spectacle in the country – 2021 & 2022.
Prime time endorsement of the EbixCash story on Zee Business by the highly reputed and followed anchor Anil Singhvi – already relayed in a 30 minute story – 2022 & 2023
30 minute stories carried out by India Today TV on Robin Raina and EbixCash success story - 2022
30 minute stories carried out by India Today TV, Aaj Tak both in the last few days itself, on Robin Raina and the EbixCash success story - 2023
Cover stories in the first week of January 2022 in Business Today and Business World and also in Business World & Business Today in first half of 2023.
A Story on EbixCash standing out from all the unicorns in terms of market domination and profitability in Forbes, one of the three top international business magazines of India – 2022
30 Minute story carried out by ET Now in an interview of Robin Raina conducted by their Managing Editor Nikhunj Dalmia – 2023.
EbixCash is committed to conducting its business in accordance with applicable laws, rules and regulations and setting the highest standards of business ethics and ethical conduct.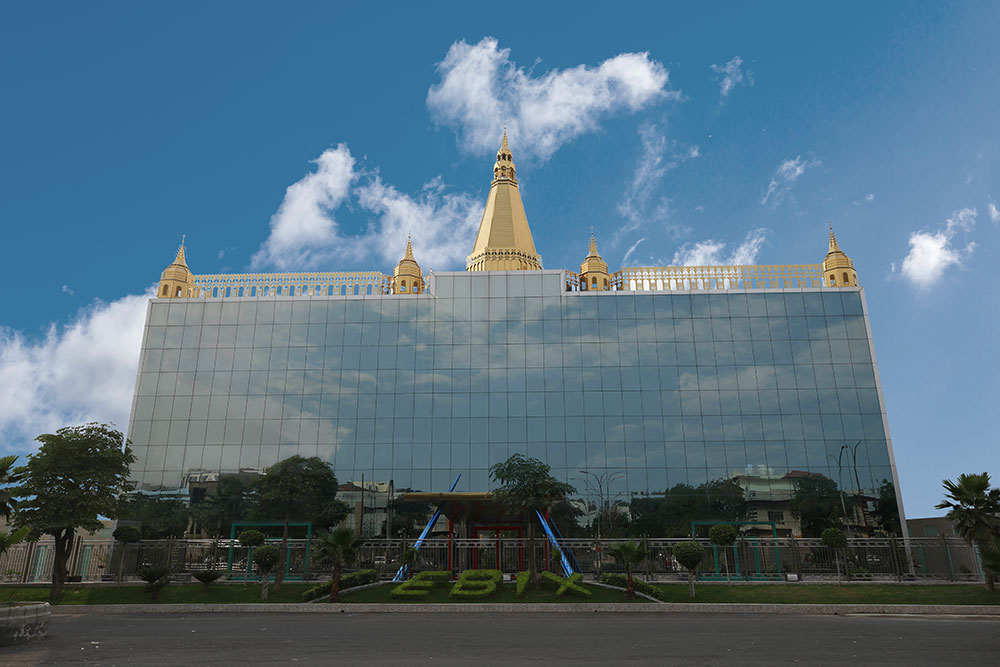 196
Offices in multiple countries
Singapore, London, Canada, US, Philippines, Indonesia, Dubai and India
10,431
Employees
22+ Years
in Business