Data Center Services
EbixCash Mobility Software India Limited, an integral part of EbixCash, offers end-to-end Data Center Services right from design, consultancy project management to Built & Operate, enabling customers to focus on their core competency. 'Data Center Build Services Customer' can choose various services as per business need or requirement whereby we deliver customized solutions. With world-class durable buildings, multiple power feeds, 24/365 mission-critical operations run by highly experienced engineers, monitoring systems and multiple security levels, we, at EbixCash Mobility Software India Limited, are equipped to enhance the efficiency and output of customer's business.
Our expertise is second to none, which is borne by the fact, that we have set up data centre for 44 clients for a leading company in India.
Data Center has the following offerings for clients:
Data Centre & Disaster Recovery Services
Data Center offers India's first Cloud-based Data Center & Disaster Recovery as a Service (DRaaS) that addresses all the challenges cost-effectively. DRaaS instantly restores the entire IT workflow (applications, servers, and data) within minutes of a disaster, using a breakthrough replication technology for data hosting & storage. This is much more effective than traditional data backup environments that simply restore data. DRaaS is run from state-of-the-art, secure and scalable Tier III data centers located in Mumbai & Bengaluru.
Benefits
Minimum downtime & data loss with near defined RPO & RTO
Highly cost-effective solution with best of breed technology
Easy and quick implementation & administration
Highly flexible with on-demand scalability
24*7 support with real- time dashboard & reporting
Convenient and flexible pricing models that help customers avoid large capital investments
Hosting Services
We provide Managed Dedicated Hosting Service wherein we furnish the server hardware & software resources on a dedicated basis on a leased model structure with a suit of value added services to take care of your complex compute requirements.
We provide Managed Co-location Services which offer a Tier-III Data Center facilities with reliable & secure physical infrastructure including power, necessary cooling, state-of-the-art fire detection & suppression systems and environmental controls.
Features
99.982% uptime & hardware replacement guarantees
Proactive monitoring, reporting & system administration
Optional Value added services like Firewall & Intrusion Detection, Vulnerability Assessment, Platform Support (Hardware/ OS), Application Support (Web/ Mail), Database Support, Internet Access, IPS Protection, Load balancing, Utility Backup & Vaulting and Utility Storage
Solution for all sizes – Intel/ RISC based servers with 1 to 4 CPUs, Microsoft/ Linux/ Solaris Platform Option, MS SQL/ Oracle on leased model
Benefits
The ability to establish your operations with minimal costs (up front & ongoing) with simple contract terms
Access to local, domestic and international telecom infrastructure to serve your connectivity needs
Ready to go live without high capital expenditure
Secure from technology obsolescence risks
Data Center Build Service
We have the capability to build customized Data Center Services which incorporate small to large scale data center construction based on the unique business needs and Build Service implements various standards defined by the TIA 942, NFPA, NBC etc along with other leading industry standards. Customer can either opt for Tier II or Tier III compliant Data Center design as per their business requirements.
Our Design Principles
Scalability
The solutions are designed in consultation with customer keeping scalability in mind. Customer can utilize the Data Center for future requirements based on the demand from the business growth with minimum disruption to the current running infrastructure.
Performance
The solutions are designed with latest technologies and laid down latest standards which confirm the service level guarantees and better operating environment to IT Setup.
Availability
The solutions are designed basis TIA 942 Specifications and other leading industry practices to ensure continued availability of the mission critical infrastructure for the customers and avoids single point of failure.
Energy Saving and Environment Friendliness
Utmost care is taken while creating and implementing the design taking into consideration the manufacturing Standards to ensure high energy savings and environmental friendly initiatives.
Approach Model - Engagement for Design and Build
We use our core strength & capabilities in the following areas to deliver intelligent & adaptable Data Center Design Solutions to our customers.
Our expertise in providing end to end design solutions for Data Centers across India
Our Knowledge base in providing specialized end-to-end support infrastructure solutions for the critical space
Experience in working with building infrastructure, building services & monitoring control systems
We employ a process with clear understanding of customer requirements comprising power needs, growth & SLA thereby optimizing the CAPEX & OPEX.
We have so far successfully executed 46 Data Center projects, one of which, is executed under the Private Partnership Model with ITI Limited. This is one of the largest Data Center facility in India
Cloud based Email Services
We provide fast, reliable and spam free email on your desktop, laptop and mobile devices without the hassle of owning and managing your own mail servers.
Features
Advanced Gateway level anti-spam & anti-virus protection
Connection & content filtering
Wider options of email access using POP/ IMAP/ MAPI based clients. Web based access and email access on mobile devices
Information sharing features like scheduling, sharing of calendars, contacts, tasks etc.
Enhanced Real time presence & communication
Simplified user interface & navigation
Built-in redundancy at every layer
Reliable & efficient protection to client data using premium backup infrastructure
Optional DR, Journaling & Archiving & Bulk Mailing & Migration Services
SLA based delivery by experts – 24×7
Benefits
Highly available, reliable and secure solution
No Capex, Only Opex on 'Pay as you grow' model
On demand scalability in terms of number of Mail Boxes and Storage Capacity
Anytime, anywhere access to information
Cloud Services
Cloud computing brings 'On demand computing' closer to reality. It has the potential to change the way IT hardware and various applications are purchased, designed and used. Cloud Services promise of scalability and 'pay-as-you-go' pricing model, extends greater business effectiveness at lower IT costs.
LaaS – Compute On Demand
Our 'Compute on Demand' service provides an all-inclusive and fully managed compute infrastructure consisting of a pool of compute hardware, software, maintenance and management. 'Compute on Demand' services make businesses more and more productive by allowing them to build enterprise grade IT infrastructure that can cope with peak demand, without having large chunks of capacity sitting idle most of the time. It allows customers to subscribe to Infrastructure as a service so that the end user can consume virtual compute resources with maximum agility and be able to shift their traditional Capital Expenditure (CapEx) into Operating Expenditure (OpEx) budgets. Customers can access their applications and data securely from anywhere and anytime through internet. We provide prepackaged compute instances which includes virtual compute like processing power, RAM, storage capacity, managed security services like firewall and IPS along with options of operating systems, internet data transfer along with end to end proactive monitoring and management.
Features
Access, Manage, Monitor and dynamically provisioning Virtual Infrastructure (Virtual Servers & Networks) in the cloud
Makes it possible to deploy new server instances in minutes, not hours and days
Allows End User to easily provision multiple VLANs to suite their specific N Tier Architecture needs
Cloud Infrastructure is backed up on daily basis. Protected through enterprise class security infrastructure
Allowing users to quickly scale capacity, both up and down, as computing requirements change
Allowing users to monitor and manage their own server instances
Benefits
Pure OpEx Model
Gives access to compute resources on demand, and lets you pay only for the instance of compute used. Also reduces data center facilities and equipment costs
Accelerated Time-To-Market
Quick deployment of proven solutions and faster response to business computing infrastructure demands
Limitless Capacity and Scalability
Accommodates additional compute requirement as and when required without delay
Availability
Service Availability 99.5 %
Completely Managed
24/7/365 access, end to end proactive monitoring and management by expert technical staff
Unhindered Focus
Focus on business critical activities instead of infrastructure issues
SaaS – Cloud Applications
One of the major challenges faced by any entrepreneur today is to keep pace with changing times and technology. Today, cloud based applications offer a host of benefits like faster go-live, predictable expenditure & scalability. Software applications which are meant for better productivity of business in terms of communication, collaboration, work flow management and business process automation are delivered under EbixCash's Software as a Service (SaaS) model and accessed through web. This helps improving existing processes by adopting wide range of applications for maintaining business momentum and outperforming much larger competition.
Advantages
Affordability
Low barrier to entry and exit, answer to SMBs key problem
Limited Risk
SLA based services
Pay As You Use
Services can easily be aligned with existing business demands
Faster Deployment & No Learning Curve
Simplicity of deployment and use
Check On Cash Outflow
Ability to provide forecast of IT expenditure more accurately with predictable, pay-as-you-go costs
In-House IT Team can focus on Core Business
These On Demand applications dramatically reduce the technical burden associated with the ongoing IT management of business software
Key Differentiators
Parentage
Unique parentage – Indian SI, Global network service provider, Indian technology PSU
Leadership team with strong data center background
Infrastructure
Tier –III+ data center facility with best in class infrastructure
Carrier neutral IDC with no conflict of interest with the group's other businesses
Built with conscious focus on adopting environment friendly technologies
India's first and only IDC to support multi density racks with power requirements ranging from 4 KVA up to 14 KVA per rack
Services
Comprehensive service portfolio covering the entire value chain right from infrastructure to applications
Flexible & customized offerings for diverse customer needs
Best in class service levels
Agile & customer focused support teams
Service delivery modeled on ITIL framework
Location
DR located in Bangalore being stable seismic zone is one of the best locations in India for data centre facilities
Data Center is located within the secured premise.
Our Valuable Customers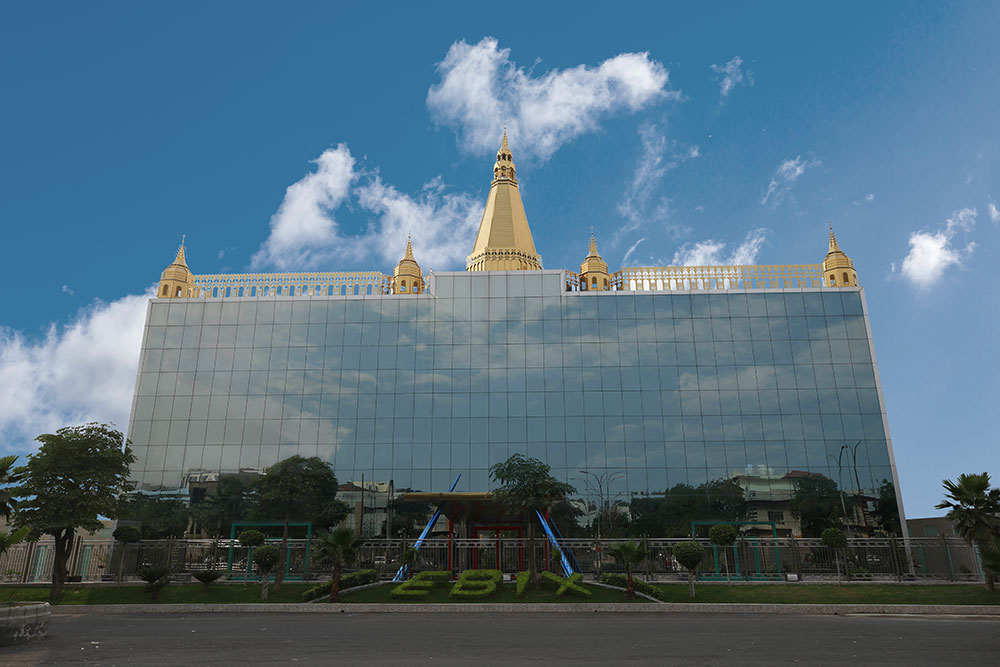 196
Offices in multiple countries
Singapore, London, Canada, US, Philippines, Indonesia, Dubai and India
10,431
Employees
22+ Years
in Business
Contact Us
Ebixcash
F-21, ITI Ltd, Doorwani Nagar, Bangalore, Karnataka-560016
T:
+91 80 6656 1000; +91 80 6656 1055
Email:
santosh.chordia@ebixcash.com